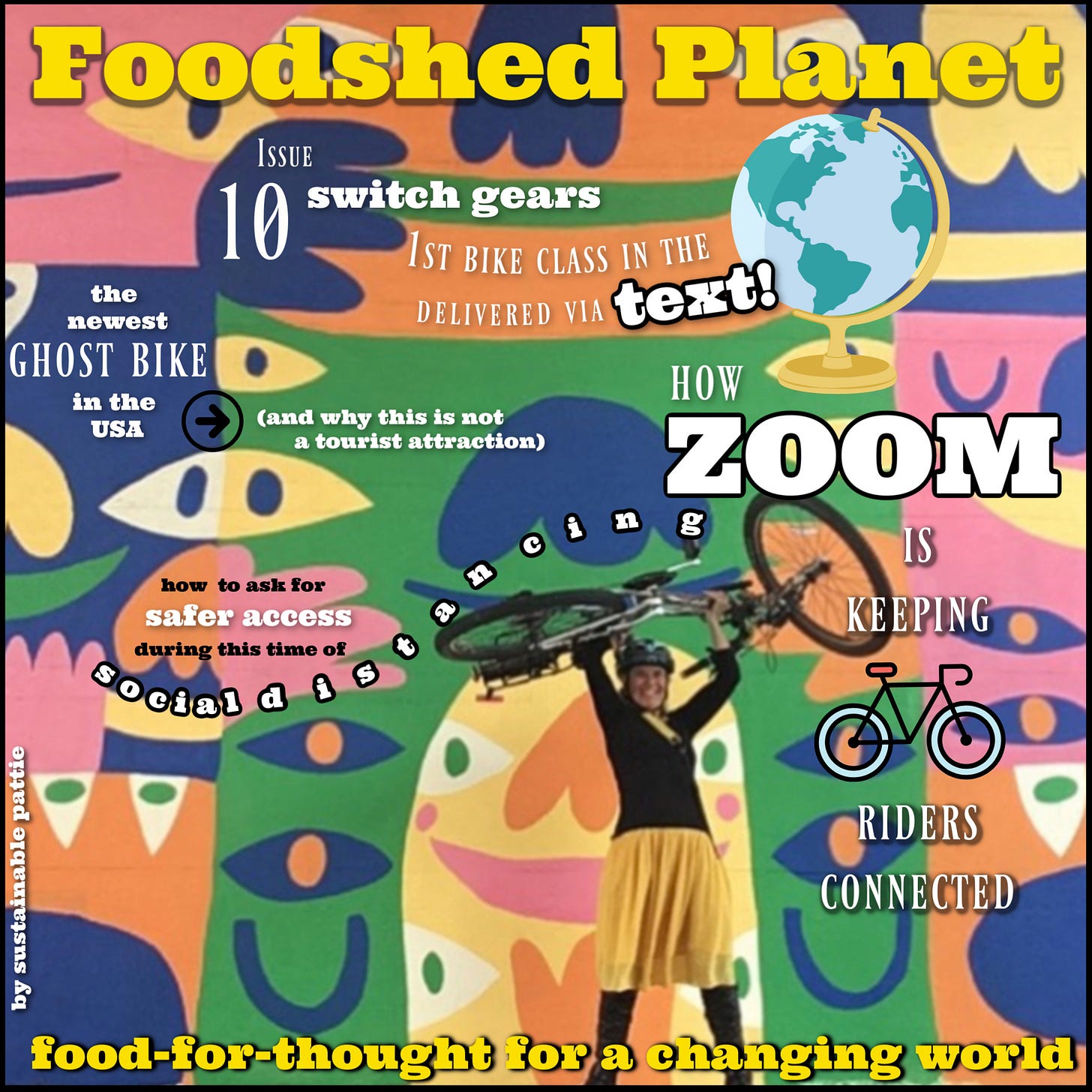 Bike boom! Biggest surge in popularity for bikes since the 1970s! Bikes sold out everywhere! Headlines like these abound right now, and one trip to the empty racks in the sporting goods department at your local big box store will make it abundantly clear. Bikes are having a moment. (See Bikes Are the New Toilet Paper for my rubber-hits-the-road evidence.) People of all ages and abilities are switching gears and working bikes into their lives (including many healthcare workers, by the way, for whom numerous city bikeshare systems are offering free use).
This is great for lots of reasons, but as a child from that 1970s bike boom (remember this sound? hello, baseball cards in tire spokes!), I can tell you that one of the biggest benefits is to kids because bike riding is a gift for life. You absolutely 100% cannot feel like a kid when you ride a bike again every single time for the rest of your life if you didn't ride a bike as a kid. (And, by the way, you most likely won't be able to ride your bike with your grandkids some day if you don't ride one now.)
The Good
Learning and connecting has never been easier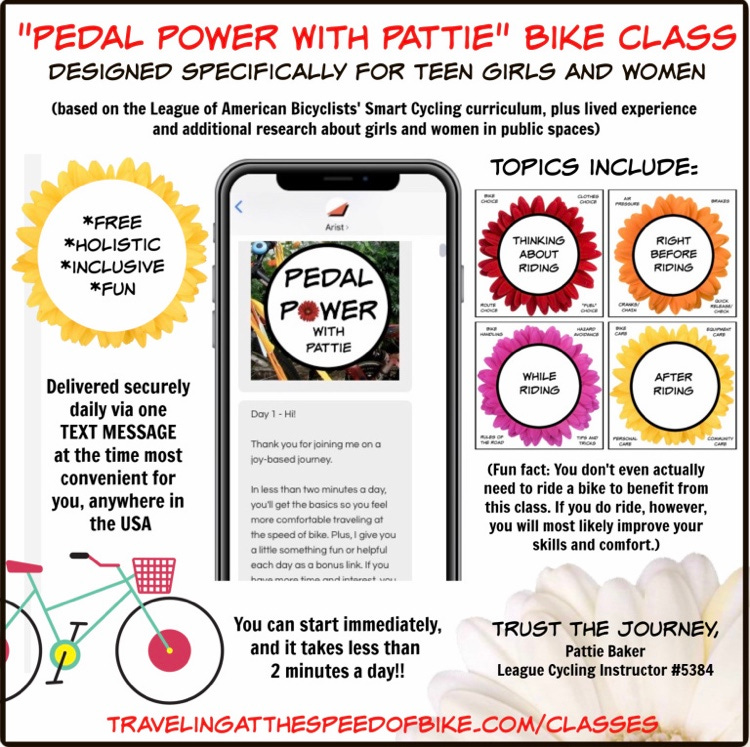 So, here's the thing. You get a new bike (or back on an old bike from the attic or garage or shed — hear what happened when one bike in the attic came down after 20 years) and you do a loop around your neighborhood and all's well — until you actually try to go somewhere and realize (quickly) that it's hell on wheels out there (and I'm not talking the two-wheeled kind).
You're not imagining this (this little link will knock your socks off). Massively-larger motor vehicles and driver distractions have resulted in year-over-year increased injury and death to bike riders (and pedestrians). Makes you wanna hang up the helmet, doesn't it? Don't. You have more power than you may realize, and you can eliminate a significant majority of the risks (and teach your kids how to do that, too).
My wheels got turning during these shelter-in-place days to see how I could help you. I adapted an in-person bike class I had already created and taught into a less-than-2-minute-a-day version (for 22 days, including the hello and goodbye), delivered via text (the first in the world). Pilot-test feedback so far tells me it's fun and effective (I give you a sneak peek in the "How To" Bonus Content below). And it's free for unlimited participants in the USA through the end of August — which means you can start as late as August 10, but why wait? Sign up securely here (note: I never have access to your cell phone number.) You have nothing to lose, and a lifetime of joy to gain (see Rode to Joy at the end of this issue).
Bike Bingo Wednesdays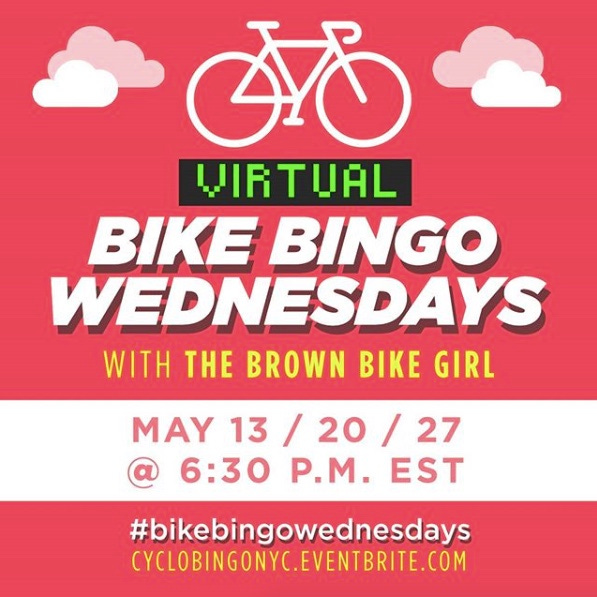 It's recommended that we don't ride our bikes in groups right now. But bike riders are creative problem-solvers, and we're connecting virtually. Why not tap in? Come to Bike Bingo Wednesdays this week (May 27) for the final Zoom gathering of this innovative, interactive event, create and hosted by Courtney Williams, aka The Brown Bike Girl (the new People's Bike Czar of New York City). A ticket's required.
Bike Bingo Wednesdays starts with a chat with a guest, and then we all play Bingo on special cards Courtney customizes each week that reflect each guest's story (the cards get emailed to you beforehand; you can print them out — or I just play on my phone with popcorn kernels as space markers). Then we do it again with a second guest! And there are prizes (I actually won a super-cool hand-made metal bike pin last week).
Previous guests were Sheryl Porter, President of Bike Friendly Grand Prairie in Texas; Sean Jackson, co-founder Stoned & Fixed in Atlanta; Greg Benning of Bike Rescue in NYC; and Josh Bisker of Mechanical Garden Bike CoOp in NYC. Here's the listing for this upcoming Wednesday (whoo hoo; join us!):
May 27 – Youth Bike Educator turned Mutual Aid Bike Mike Clark; plus Bike educator, woman bike traveler, Peace Corp-hopeful Pattie Baker on staying mentally flexible and changing plans
In separate news, there's also a League of American Bicyclists Trivia Night this upcoming Friday for League Cycling Instructors so if you're a fellow LCI, tap in to that as well. Check out bike organizations with which you are (or may want to be) involved and see if they are hosting any online events. For instance, the Atlanta Bicycle Coalition just had their 10-year anniversary on Zoom and the International Ride of Silence just hosted virtual rides for that annual event.
The Bad
Newest ghost bike in the USA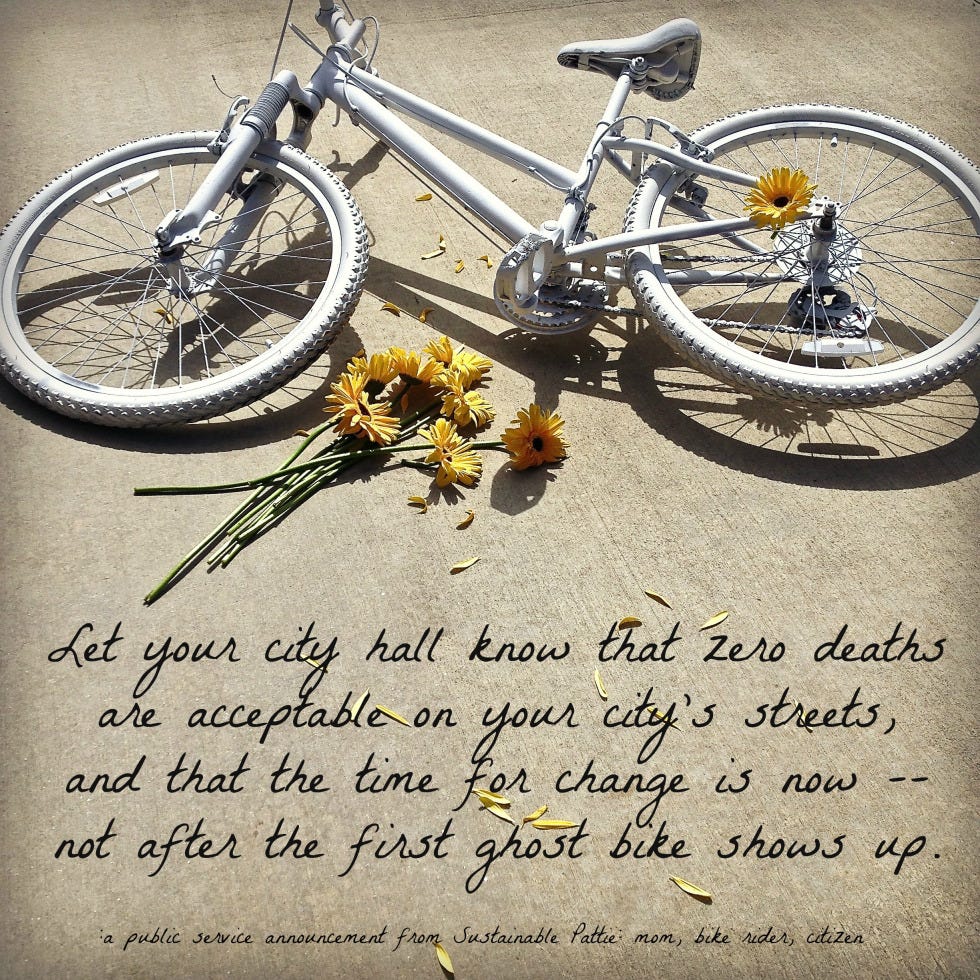 Speaking of the International Ride of Silence, it's an annual event held the third Thursday in May that memorializes bike riders who have been killed by motor vehicles while riding. We were encouraged to ride solo or virtually this year, and I rode the most dangerous road for bike riders in my city — which just so happens to be the one on which there is a community center, a college, and several places of worship (including an orthodox synagogue to which members walk — which makes the sidewalk absolutely, completely not an option for bike riders, even if it were legal over the age of 12) and is on the way to my suburb-city's main park, the food pantry, the middle and high schools, and two elementary schools*. It looks like this:
However dire that was, the worst part will be this upcoming Saturday, when the newest "ghost bike" memorial to a killed bike rider will be installed in my neighboring city by an organization named Bike Friendly ATL. I will be there, bearing witness, offering silent support to the family who lost their husband and father, and serving as a visual for city leaders so they think of a 56-year-old mom as part of the mix of people on bikes in their cities when they are making life-and-death decisions. See my blog, Traveling at the Speed of Bike, for a first-person account afterwards. Here's one of the previous ceremonies I attended. Here are ghost bikes I've passed while Traveling at the Speed of Bike in other cities (hello Atlanta, Boston, New York, and Pittsburgh).
By the way, with more people riding bikes and with bike riding being a great way to social-distance, cities may really want to consider the impact poor bike access (and the presence of ghost bikes) has on their future tourism. It's not a good look, folks. The time for change is now.
The WTF?
Safe access denied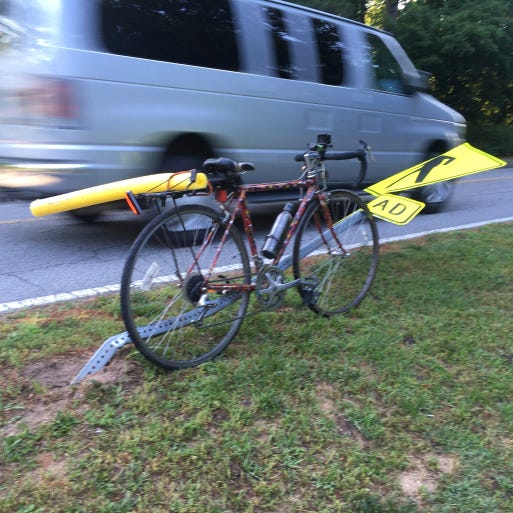 Well, the photo above looks like fun, right? Not. (That's on the road to the park in a self-proclaimed "family friendly" city that I mentioned above. Oh, say hello to Bike Noodle. Everyone's asking about it lately.) No wonder people all over the world have asked for more safe access during these times of social distancing, and hundreds of cities around the world have sprung into action.
Not mine. I asked on March 20, 2020 (one week into my state's shelter-in-place edict) and was told a firm no. No time. No resources. No priority. Now that many more people are riding bikes, especially with children, you'd think the first city in the southeastern United States to enact a Vulnerable Road User ordinance (bravo for that) would be on it. Maybe NACTO's newest guidebook, titled Streets for Pandemic Response and Recovery, will offer my city — and yours — some direction. One can hope.
"How To" Bonus Content
You rule, girl!
Hope, of course, is great, but let's circle back to putting the power in your hands. Below is a text message you would receive if you enroll in my "Pedal Power with Pattie" Bike Class (which is specifically designed for teen girls and women, who are underrepresented in our public spaces) about the rules of the road — which, at first, sounds like an important but boring topic, and then it turns out it's superhero time! (Note: Each of the 22 days in the class is this length and in this format: a visual, an intro, three helpful tips, and a bonus link to something fun, inspirational, and/or educational). The class is designed using proven best practices for number of characters per text and days per class in order to maximize knowledge in the shortest amount of-time-per-day possible. (Here's another sneak peek, if interested**.)
Day 15: Rules of the Road

Getting on a bike and claiming your equal space under the law can be empowering. It can awaken or remind you of a force inside that, once recognized, is truly unstoppable. On a bike, you are encouraged to:

1. Expect first come-first served treatment, even if you are going at a slower pace than those around you. You do not have to cede your space to anyone just because they are bigger, faster, or louder. (Ride on the right when practicable).

2. Be conspicuous. Feel free to stand out and be noticeable. Wear bright colors, carry an eye-catching bag across your body, put lights wherever you want, and make yourself large at red lights (I typically put my feet down and my hands on my hips in "superhero" position).

3. Be predictable. The more you communicate through steady handling and signaling what your intended actions are, the more cooperative those around you may become. "Hold you line" and don't zigzag. But let's not sugar-coat this. Driver distraction, impairment, and road rage are real concerns, and that's not your fault. Stay alert, and make any necessary changes you feel will improve your safety.

Bonus Link (enroll in the class to see!)
Look, I hate even mentioning the negative because there's so much god-damn joy in bike riding. Part of me wants to just stick with the life-affirming benefits of growing food (see Issue 9: Nourish) and call it a day. However, as bike riding enjoys its new heyday, I want to invite you along on the journey (even if it includes the good, the bad, and the WTF).
Let's close with a Bonus Link from one of the days in my class. I call it Rode to Joy. You'll see why. (And big, fat thanks to the City of Decatur, Georgia, USA for that public art. Art matters, and, in fact, many cities are using it in innovative ways in their current pop-up safe access solutions. I even told one of my city councilors about a grant to combine art and transportation for 100 forward-thinking cities. Stay tuned for more on that in the future. See Issue 8: Create for more about the arts. And fyi, the public street mural pictured on the cover of this current issue straddles the Reynoldstown/Cabbagetown neighborhoods of Atlanta, Georgia, USA. You can see more Art of Bike Riding here.)
Trust the journey,
Pattie
* Note: LOP lanes are being added — these are "Lipstick on a Pig" lanes that do not meet the National Association of City Traffic Official's (NACTO's) guidelines for speed and volume of motor vehicle traffic and are usually just added in order to enable a city to say they acted and increased their total miles of bike lanes in order to qualify for Bike Friendly City designation, even though they don't actually provide additional access for people of all ages and abilities.
** Sneak peek at the entire "Pedal Power with Pattie" Bike Class (note: there have already been a few changes due to valuable pilot-test feedback from women across the USA)