Connect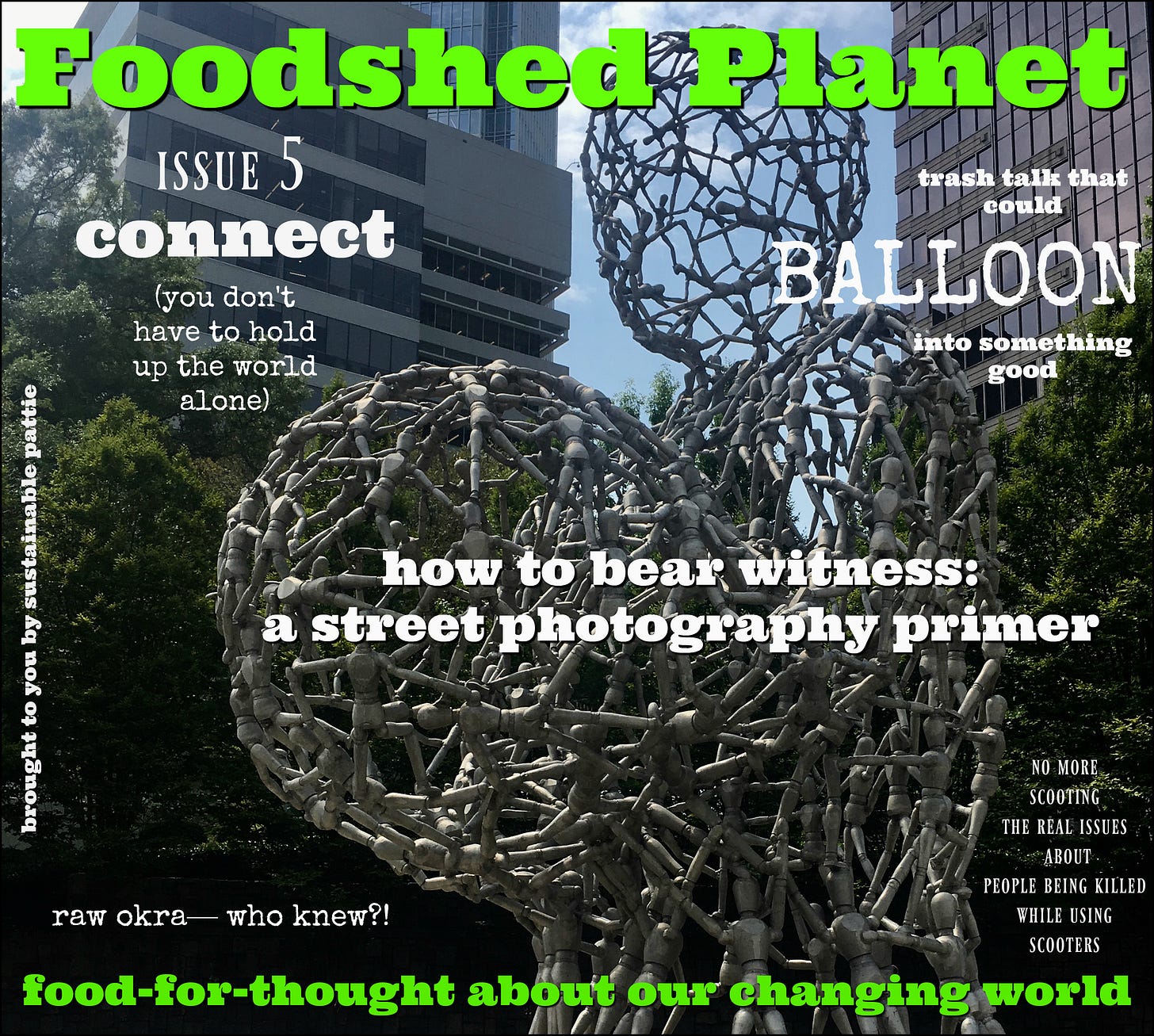 Look, we're fried. I know that. I know every one of us is walking around on our last thin thread right now, and it doesn't take much anymore to work us up or knock us down. So when I came out of the Arts Center transit station this week on my way to lead a Sustainability-in-Action bike tour (which I believe is only the second ongoing bike tour dedicated to sustainability in the world, after Copenhagen), I paused a moment at this sculpture that I've loved since it was installed for the 1996 Centennial Olympic Games here in Atlanta, Georgia, USA.
Titled World Events and made up of a whole bunch of metal people working together to hold up the world, it makes me feel less alone. Less like I have to carry all the weight of today's living hells on my shoulders.
And so when I kicked off the tour at a diminutive statue of Gandhi (which is life-sized, by the way), I didn't suggest that the tour participants (all leaders in their fields) be the change. I thanked them for all they already do, and reminded them that they are not alone. That what they do matters. That they matter. Because I know sometimes we need to hear that. Or, at least, I guess, I need to hear that. And what I've learned over time is that if I'm feeling something, other folks may be feeling it as well. So, to anyone reading this—I see you, and you are not alone. I know these times are hard. I know you are tired. But what you do matters. You matter.
Last night, after Traveling at the Speed of Bike to a local coffee shop to attend a book reading (where I got to read from my book, Traveling at the Speed of Bike, two months ago), I sat with my wine and goodie and listened to brilliant author Kathy Wilson Florence, who runs the monthly event, talk about the importance of connecting, of helping each other, of lifting each other up. (Please buy her books. They are so ridiculously good — you can read my reviews of them at that link. Also ask Reese Witherspoon to make a movie out of them, ok?) And I got to thinking of how we really can't hear that message enough right now.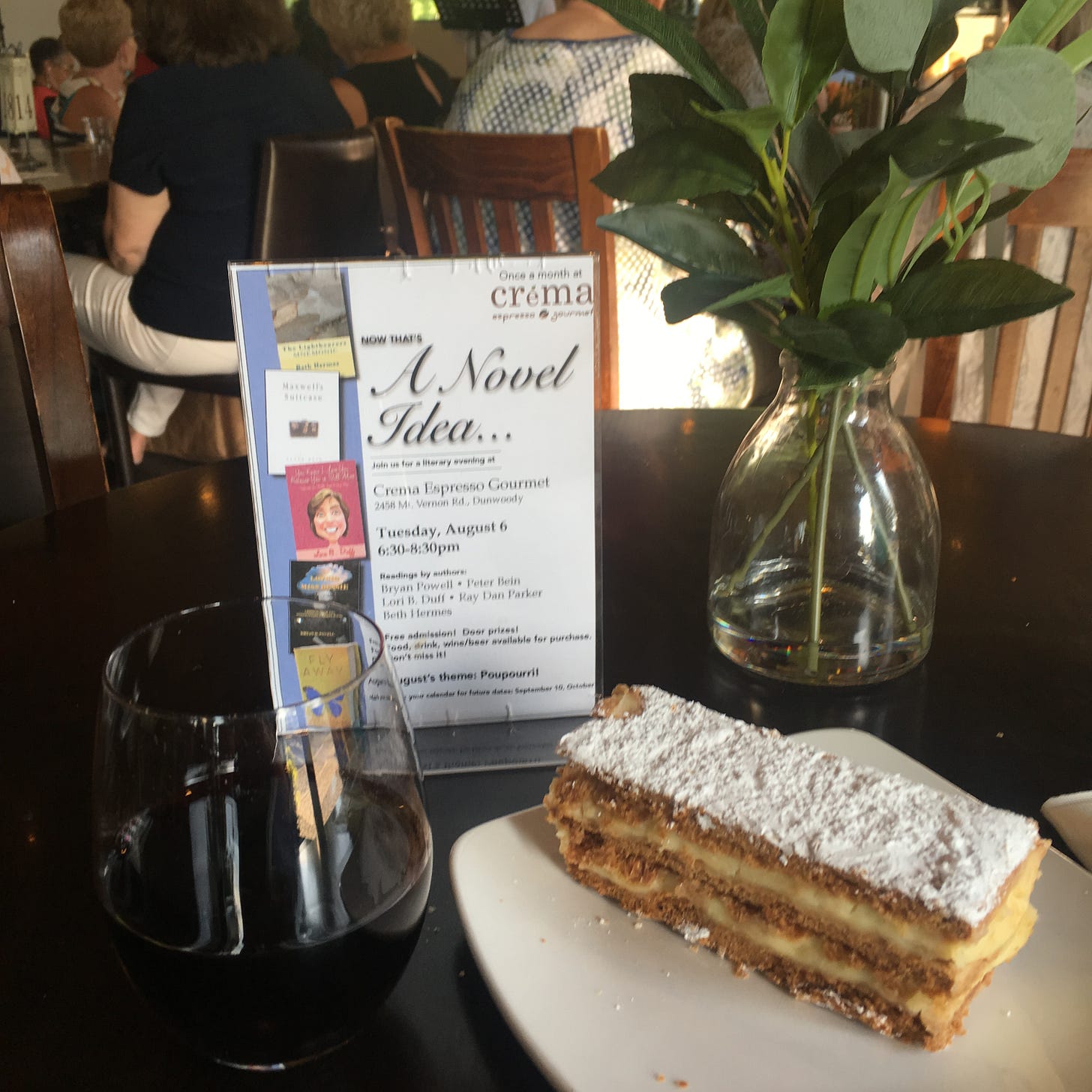 The Good
Raw okra — who knew?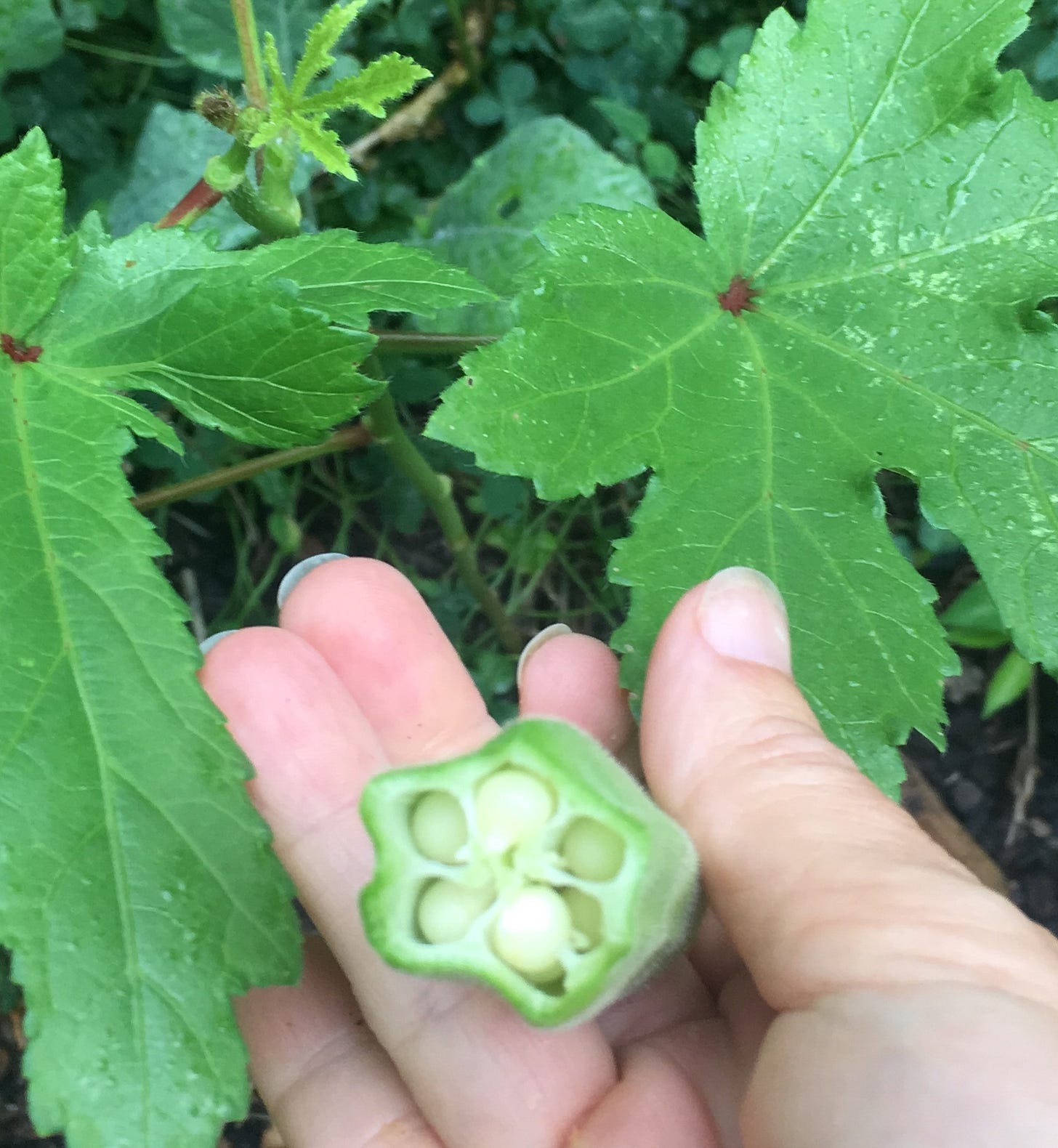 There is a time and a place for everything, and now is the time for okra (this photo could be better but I ate all the okra so I don't have another one to photograph, so whatever). If you think you don't like okra (the slime, when cooked, which makes it great for gumbo may be your stumbling block, perhaps?), then I suggest you try it raw. I snap it off the plants in my garden here in the southeastern United States and it's crunchy, sweet, and delicious. Just five plants can put you in so much abundance that you may end up experiencing what I did in this Foodshed Planet blog post from 2011:
Encourage the arts.  Encourage walking and biking to school.  Encourage your City Hall to plant a public orchard on an unused, unloved patch of land.  But please don't encourage the okra. 

It doesn't need any encouragement.  I'm already harvesting it twice a day.  I've fried, baked, pureed, sauteed, and eaten it raw.  Now, I've started dehydrating it just to delay the decision of what to do with it.  I'm drying (out there in the garden in the blazing sun) the ones that got too large when I foolishly turned my back and am planning on making Christmas ornaments with them. (Don't you just want to be on my list?  At least it's a step up from when I gave out Pachy Poo--composted elephant dung from the Atlanta Zoo.)

Encourage No-Idling campaigns.  Encourage recycling.  Encourage ordinances that allow backyard chickens.  But please, please, please don't encourage the okra.

(See Food for My Daughters, page 147, under Fragrant, Fuzzy, and Furry, for more about okra, as well as organic flowers and edamame.)
And, by the way, I ended up making Santa Okras that year (shown mostly without their eyes and cheeks in the photo below). So, if you have abundance, just let them grow a bit long, cut them off the plants, and dry them in the garage until you hear the seeds rattle. Save the painting, etc. for a chilly day in late fall. (I also made Hanukkah Harrys by painting some blue). They are super cute and durable. I still hang one on my tree each year.
(For parents of school-age children, I also offer you this.)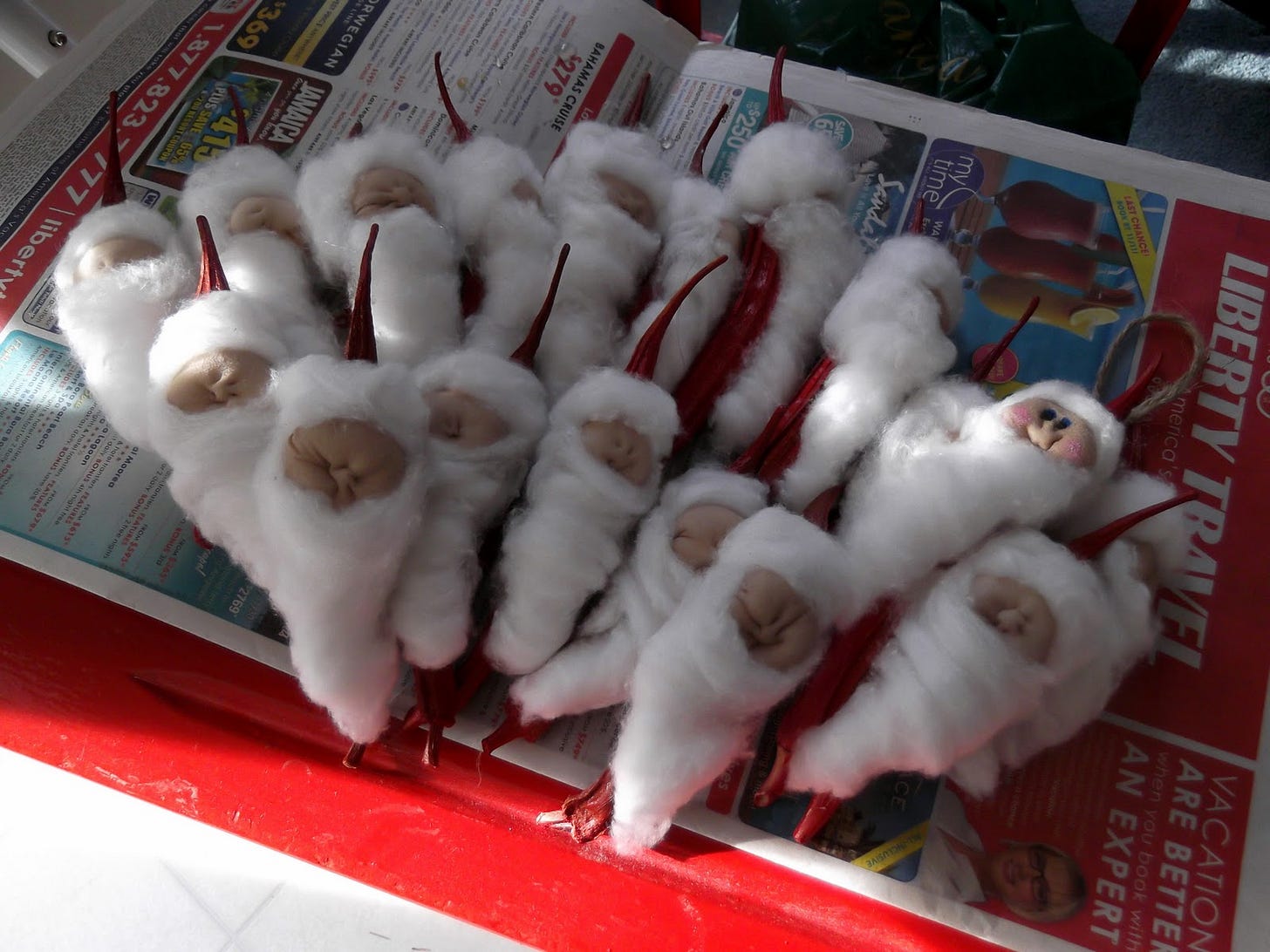 The Bad
Ballooning trash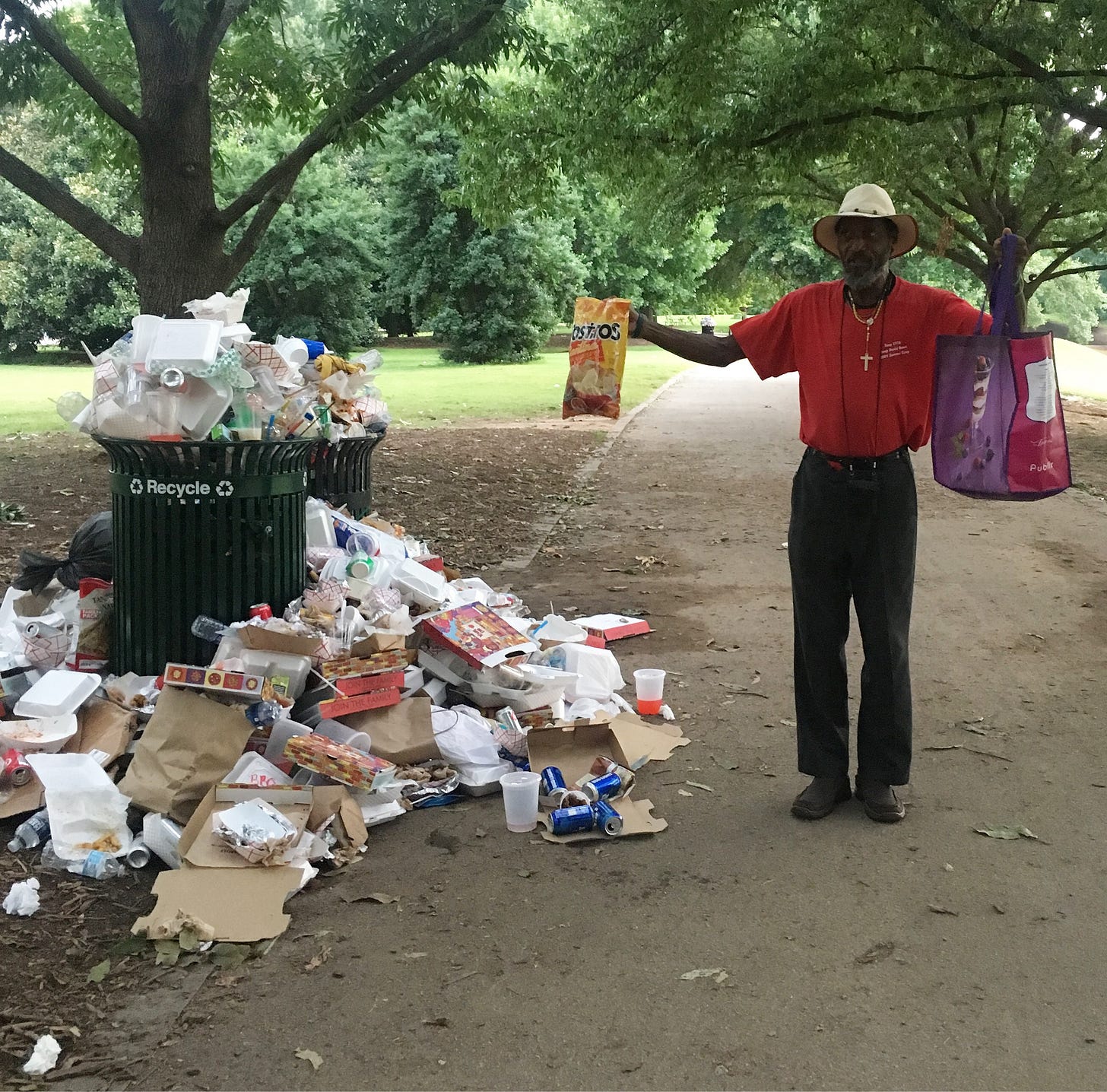 Meet Woodson. He was one of Today's Nice Strangers this week (see them all to date here). He was picking through the mounds of trash all over Piedmont Park in Atlanta when I was Traveling at the Speed of Bike on my way to my gig leading that sustainability tour Sunday morning (ever so ironically). I came up to him and we got to talking about the tethered balloon festival that was happening there that weekend, which had led to this really unprecedented amount of trash. He said that America should be ashamed of itself, that people in other places would kill for what we throw away. He seemed pretty grateful, however, to score that unopened bag of chips.
The next morning, riding through the park again, I encountered an equally-disasterous amount of trash all over the park, but this time I met a guy named Ricky Garvie (don't Google him — it ain't pretty), who turned out to be the owner of the balloon event company, named Midflo. Ricky and I got into a pretty long conversation about the trash, which was really downright depressing at which to look since it consisted of so much styrofoam and plastic and other oversized packaging that it's past time to move beyond as a city trying to position itself as a leader in resiliency.
Bottom line: Ricky admits that the event was far more popular than expected. He praised Atlanta for how involved the community is, but says that other cities in which he does events do a better job at reducing waste by requiring less packaging by vendors. He would love to work with the city to improve this outcome next time. (And, by the way, Pepsi is his national sponsor and somehow the promised recycling effort by them fell apart). He said he would email me the agreement he had with the city so I could dive in a bit deeper, but I have yet to receive that, sooooo . . . not sure what I can do to help here except say that there is indeed a better way. Just look at this sh*t: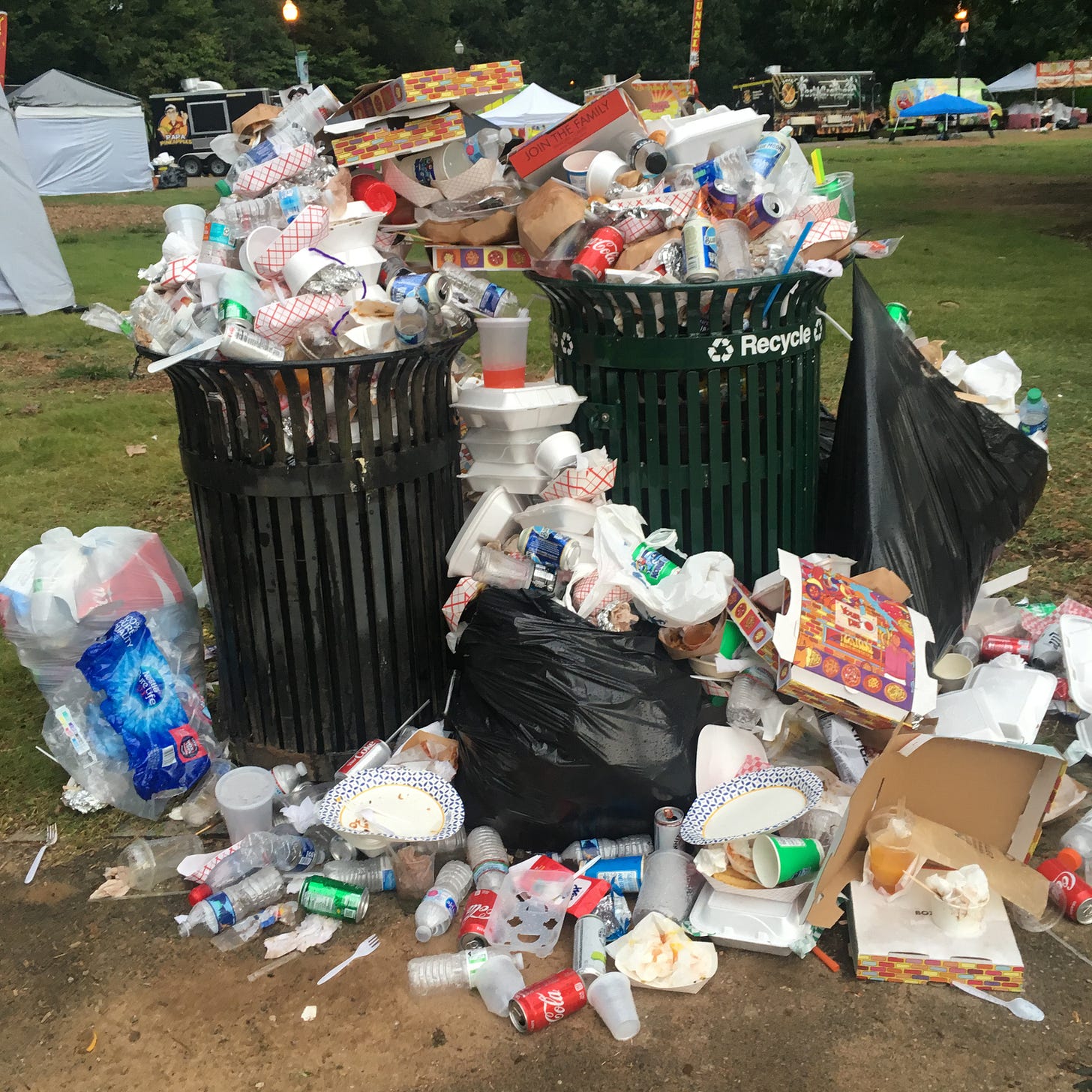 The WTF?
10 people on scooters killed in the USA— 3 in Atlanta alone (update: make that 4)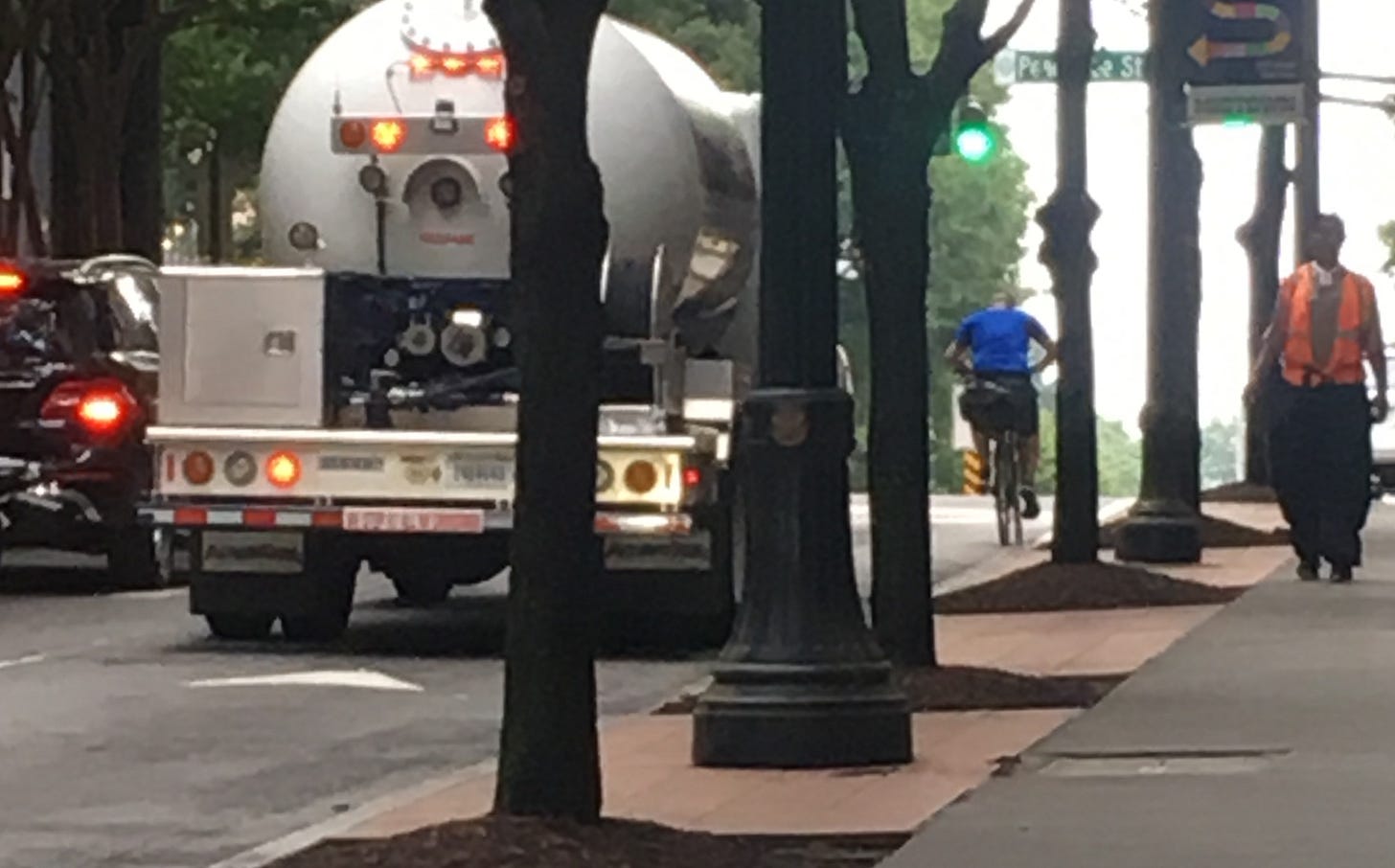 Last Thursday, I heard that a mom of two babies who was hit while riding a scooter five days earlier while visiting Atlanta had been pronounced dead at the hospital, where her husband held vigil as the family waited for her body's organs to be harvested. I rode my bike to the block where she was struck by a motor vehicle driver, expecting to see flowers so I would know the exact spot. There were none. We are getting used to death here, it seems.
From what I can tell, she was hit on the block pictured above. You can see what it looks like to ride a bike here, so imagine a scooter. No safety improvements have been made. Just a few blocks north of here, just beyond the recently-opened largest Whole Foods in the southeastern United States (which is hell-on-wheels to get to — I know, because I've done it), is where another person riding a scooter was killed last month. Another was killed the month before on a road that had been slated for a Complete Streets makeover but didn't get it because the money was diverted elsewhere. That's three deaths related to motor vehicle drivers hitting scooters, out of a total ten deaths of people on scooters nationwide. That's a WTF?, folks.
UPDATE: I just found out a fourth person riding a scooter was killed when a motor vehicle hit him as I was writing this. That's ten scooter deaths in the USA — four in Atlanta in the last three months.
"How-To" Bonus Content
Bear witness as a street photographer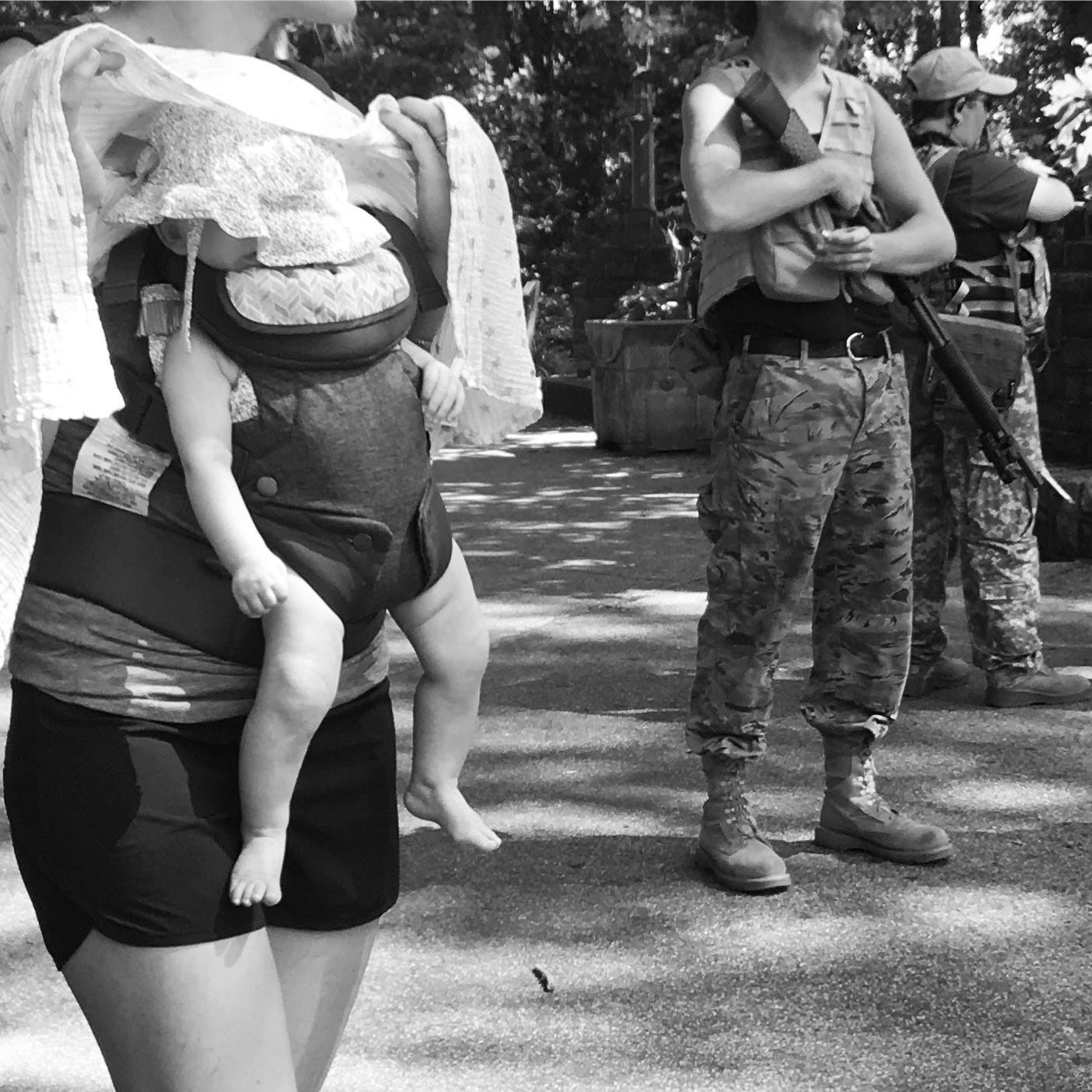 Somewhere along the line, I became a street photographer. I consider bearing witness important. I capture everyday people doing everyday things. Some of my favorite things to cover are protests (which, my god, we've had a ton of lately), and I especially like to capture unexpected juxtapositions, such as the one above. I call this photo Open Carry. I took it a couple of years ago, but it, unfortunately, continues to feel timely.
Quick tips for street photography:
You can take photos of buildings and people in public space, although this is my privilege talking. If you are black or brown and male, you may be considered suspicious if you do this. Also, please note that many cities are creating "public space" that is actually private, and there are a whole set of rules that apply in these stolen spaces that could forbid photography, so check that out.
Personally, I rarely show recognizable photos of children. Also, if someone sees me taking a photo of them, I try to be sure I get the "nod" from them first so that there is implied consent. Sometimes I get to talking to folks, and if they are uncomfortable with the photo, I take that to heart. This photo, for instance, originally included the mother's face but the mother asked me to crop it.
Another thing: the female gaze (i.e. our point of view) is often missing from public discourse and historical records so whatever you find interesting as a woman with a camera is needed. There are a growing number of contests to encourage more women photographers, including this Alpha Female contest (but doesn't that sound very male?). I am hoping to win one just so I can finally get a better camera that's still unobtrusive and fast-to-use in a public setting. All your biggies in street photography have some version of that cute classic Leica (although this guy gives it a mixed review). Maybe some day . . .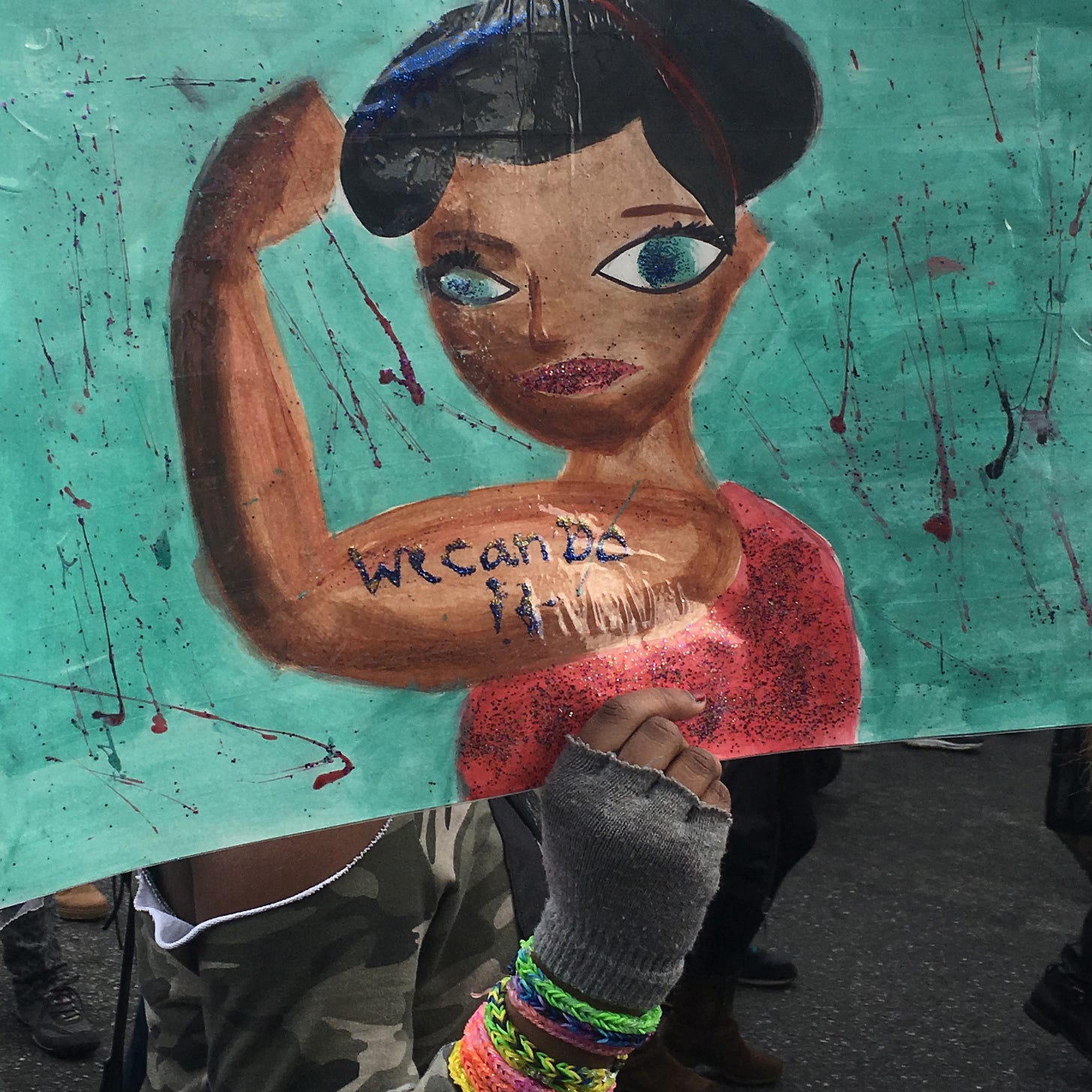 So, that's it, team. How do we feel about this little newsletter thing? I kind of like it, but I'm feeling like after we hit issue 8, I may switch to once a month. I sorta' miss my blog, and this is more time-consuming than I expected — although if you want to pay me to do a newsletter for your company (and you're trying to do some good in the world), I'm in! In the meantime, sign up here so you don't miss an issue, especially if I start getting erratic with it (which is totally possible):
Also, did you notice I left off the Action Step section this time? I actually don't give a sh*t what you choose to do. This is a no-judgment zone. Just do what you can.
Trust the journey,
Pattie