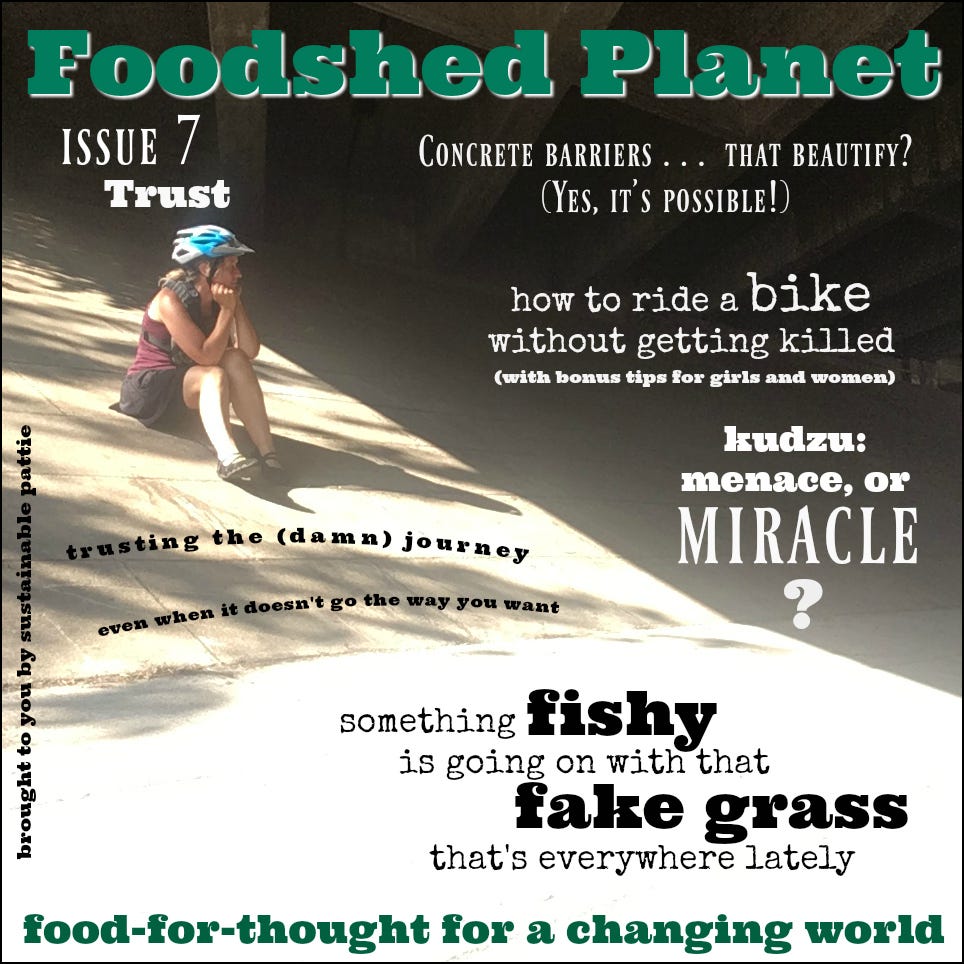 Okay, I'm gonna go super-short on this one. I'm in the middle of getting ready for the 10-year anniversary of a community garden I helped start, and I'm cutting and painting wine bottles to fill with herbs so . . . let's knock this out.
FYI, I'm just about over my heartbreaking disappointment last week at not being selected for the Peace Corps. Lots of good happened during the whole two months after my interview that I spent waiting for the word, however, and that made it (sort of) easy to get back to trusting the (damn) journey. Bring it.
The Good
Pretty barriers, and could kudzu be the cure?
I was on one of my regular bike rides when I got to noticing, yet again, how the City of Atlanta is really hitting it out of the park with the concrete barrier plantings. Most cities are adding some version of these to keep motor vehicle drivers from plowing down pedestrians (or bike riders, like on the Hudson River Greenway in my beloved NYC — my photo of memorial sign below), but most of the ones I've seen have been purely utilitarian and downright ugly. These are nice. Bravo.
More observations while Traveling at the Speed of Bike? Both muscadines and kudzu flowers are filling the air with the most wonderful grapey fragrance right now. Think Welch's purple grape juice. That smell. Regarding kudzu, I still think it's the cure to something. Cancer, maybe. We wouldn't have so much of it for no reason. You may enjoy kudzu-related posts of mine titled Who Will Be the Next George Washington Carver? and Channing Cope and His Vine of Hope. I've been down this road before.
The Bad
What's with all the fake grass?
Look, artificial turf just doesn't make sense at this time when we should be making environmentally-sound decisions with every single step forward. Here's what I know, and why I recommend the precautionary principle regarding these plastic places. I didn't even include the part about how artificial turf kills the entire microbial life of the soil underneath it, or the potential leaching of micro-plastic particles into our groundwater on all those ball fields, dog parks (!), and playgrounds.
I was happy to see that my suburb-city's recent report about its greenspace clearly classifies the artificial turf it is adding on which children will be playing as non-greenspace. That should tell you something.
The WTF
Apartment marketing
I'm not really sure what to think about this marketing for an apartment complex I passed recently. At first, I thought, "Whoa. How narcissistic." But the more I think about it, if the messages those of the Millenial and Gen Z generations get all day long is that they're supposed to save the world (of no fault of their own), maybe coming home somewhere where they can just be pampered isn't too much to ask.
"How To" Bonus Content
How to ride a bike without getting killed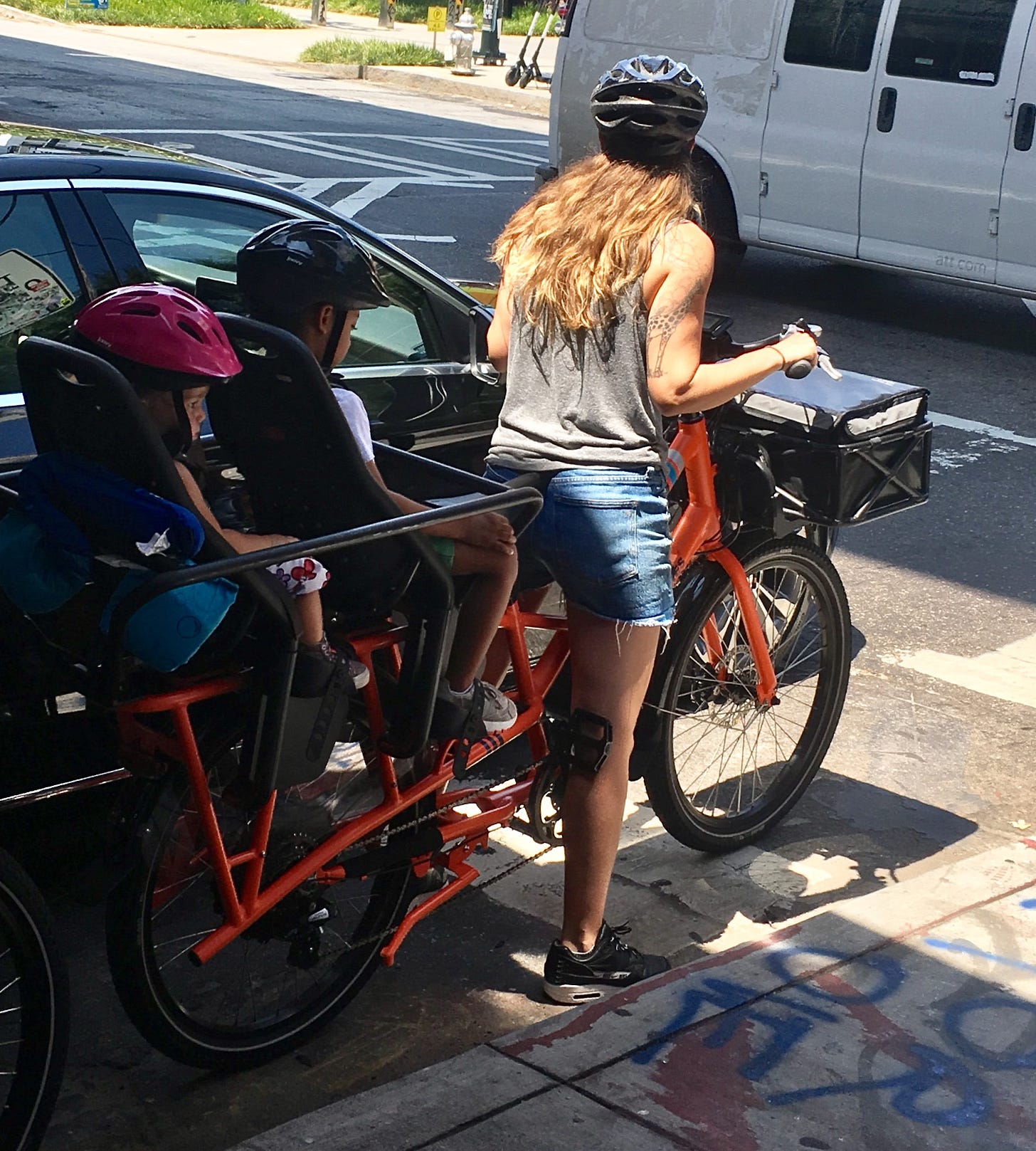 Make sure your bike is in good riding condition;

Choose a route that matches the level of risk you are willing to assume (don't get sucked into that "you just need to be more confident" crap);

Know the main reasons crashes happen and take affirmative steps to avoid them;

Advocate at city hall for increased safe access;

Take my class, which includes all that (and more) plus bonus tips specific for girls and women, based on rubber-hits-the-road findings nationwide.

Note: this mom pictured above has clearly got it goin' on.
Okay, team, over and out this week. Follow along so you don't miss an issue as we shift to monthly now:
And as always . . .
Trust the journey,
Pattie