Stay curious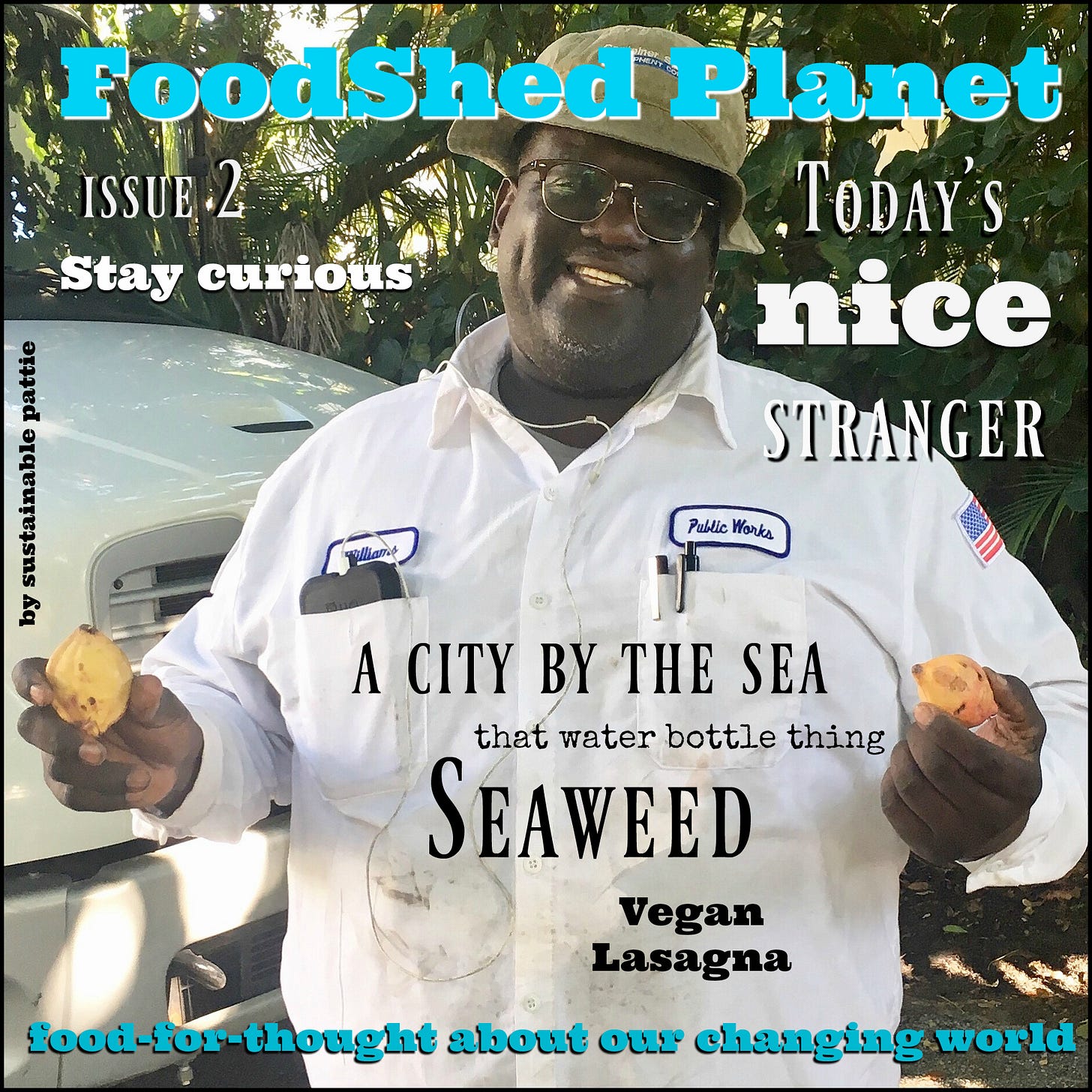 So I'm Traveling at the Speed of Bike all over Downtown Delray Beach, Florida (where my father-in-law lives and where I've been going to visit him for my entire marriage, which would be thirty years in 2020, if you can even frickin believe it), when I find all these half-eaten fruity-looking things on the ground. While studying them (as is my habit), I end up meeting this city public works employee named Dwaine and he tells me they are almonds, although that would make them some seriously big-ass nuts but when I say something like that he says there are many types of almonds, which, okay, is plausible. Dwaine says people make a tea out of the leaves. Note: research this stuff before you consume anything you find out and about, however, folks.
I had already totally nerded out by reading the City of Delray Beach's Comprehensive Plan's sustainability section online (they call it Conservation: Sustainability and Resiliency, which frankly does a terrific job of combining three words that all say the same thing while saying nothing at all, but no person or city has hit on any better way to say we're going to hell in a handbasket yet). I have a long list of things to look up after just getting home from this really lovely, vibrant, environmentally-focused oceanside city. What I do know is that this city is saving the turtles. It protects the nests, requires turtle-friendly lighting, and bans plastic straws. Maybe there's hope for all of us. Action step: Say hi to folks. People are interesting and nice (mostly). (Plus learn your local flora and fauna, even when you travel.)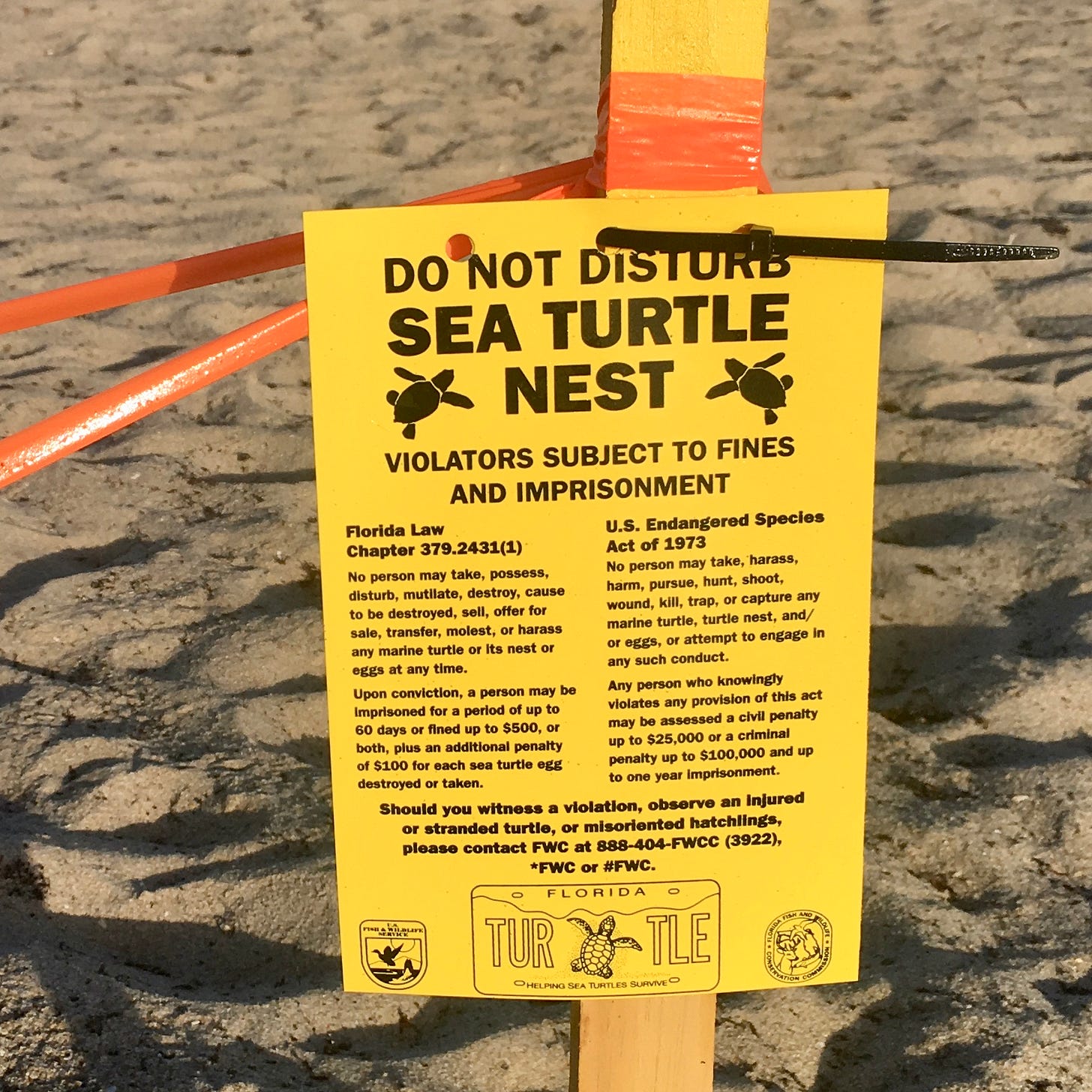 If you enjoyed meeting Dwaine here, you may enjoy my Today's Nice Stranger Insta. I've also posted little stories about some of the strangers I've met on my blog. (Truth? Chatting with strangers while riding my bike is what I like to do most. If you need me to do that for your company, well, let's just call that "dream job.")
The Good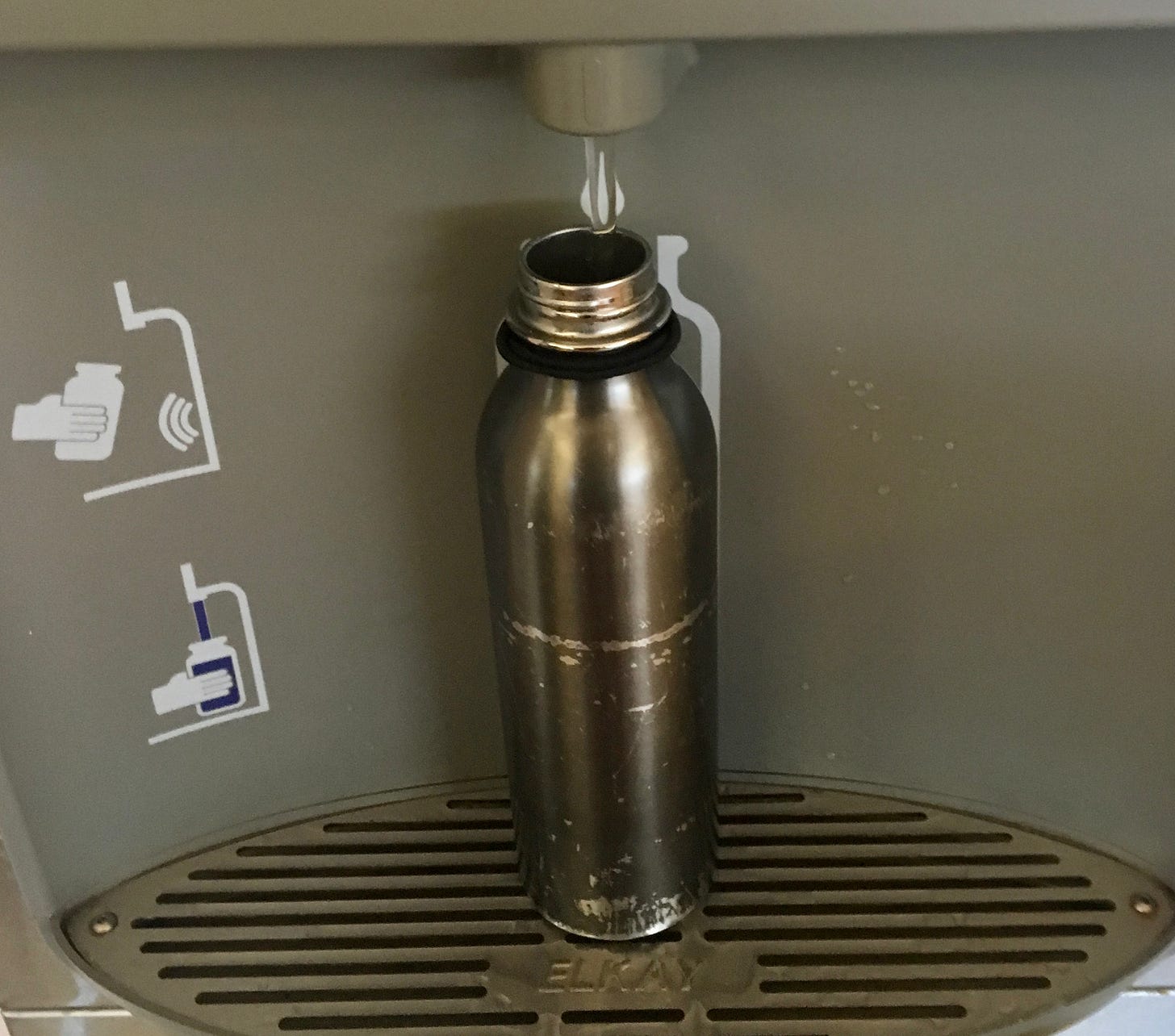 Honestly, I never lose my initial enthusiasm for these water-bottle-fill-up-stations. They should be everywhere. Nothing tells me more about a place (airport, school, corporation, food court, city hall, park . . .) than whether or not these are present. Action step: Thank folks at the places that offer these to encourage more of them (or maybe insist that they be included as standard from now on, if you work in a capacity where you have that kind of pull).
The Bad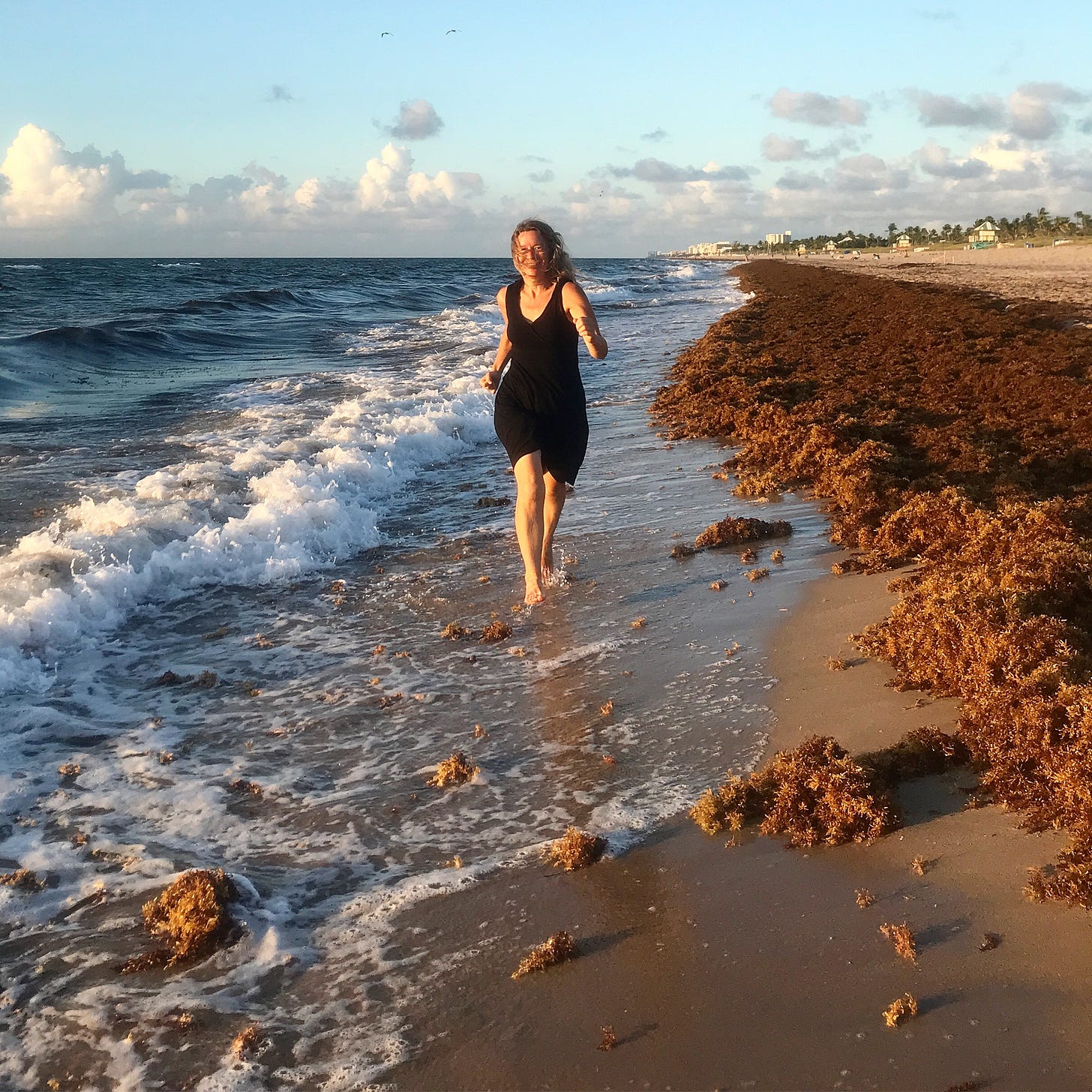 There was, like, so much seaweed (but no rotten egg smell like the seaweed being reported in areas of the Caribbean right now, and apparently every beach in the State of Mississippi). This beach is usually loaded with seashells, and there was not a single seashell along the shoreline this week. Is the proliferation of seaweed, or the conditions that are causing the seaweed, also killing the sea animals? Again, I have much research to do, although my findings-to-date identify this as part of the world's largest sargassum seaweed patch that currently extends over 5,000 miles from West Africa to the Caribbean and is most likely caused by deforestation and fertilizer runoff. Action step: Carry a little notebook with you and jot down things to research. Stay curious, especially when you see something that is not normal.
The WTF
Okay, this has nothing to do with the beach, but did you hear the barely-reported news that giraffes are now officially on the endangered species list? Giraffes, folks. We have royally f*cked up. I don't have a photo of one. I may never.
"How-To" Bonus Content
No-pasta vegan lasagna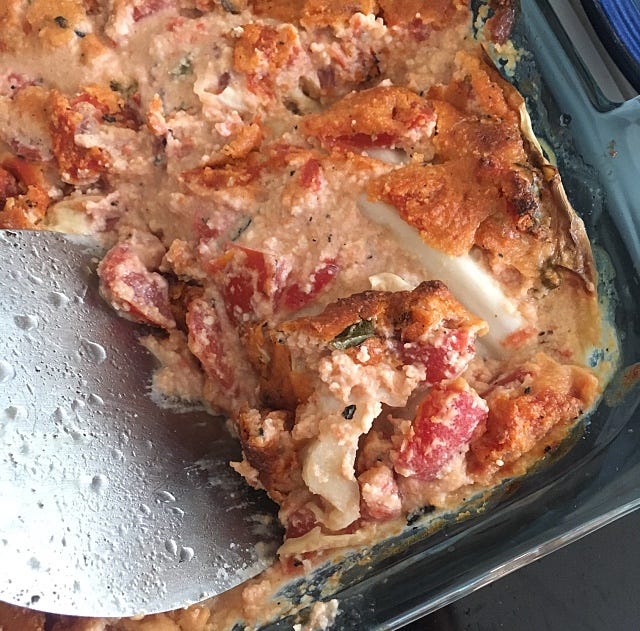 Story: Smartypants that I am, I made what we call in my house "the cabbage thing" and froze it before we left for the beach because my two vegan daughters were coming home with my husband and me and now I have it all ready for us. I can't even begin to explain how delicious this vegan lasagna is and it's a breeze to make.
Tip: Take two hours once a week and make stuff. At the same time I was making this lasagna, I made lentil and sweet potato latkes with a lemon balm/pistacchio pesto, which I'll serve with a side of sautéed garden greens. That's in the freezer, too.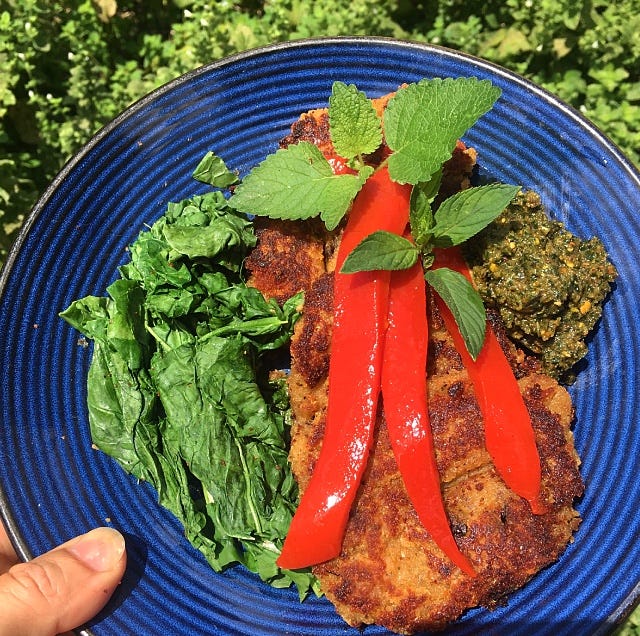 But I digress. Now, back to the lasagna . . .
Recipe: You boil roasted, salted cashews (like, a pound of them) in water for ten minutes and then let them cool. You food-process them with some of the water from the pot until it's creamy like ricotta ( you may need to do this in small batches), and add some sea salt to taste (if more is needed, or if you used raw unsalted nuts instead). Honestly, this is so good that you will be scooping this out with a spoon and lapping it up, but control yourself because you need a lot of it for the recipe. So put the cashew cream back in the pot and add a big can of fire roasted tomatoes, some chopped fresh oregano and basil, maybe some garlic, and some sea salt and pepper. Heat that up a bit and let the flavors mix. Line a casserole dish with raw cabbage leaves. Scoop on a generous heap of the cashew tomato mixture. Layer more cabbage. Scoop more mixture. Layer, scoop, layer, scoop, until you get to the top of the dish. Bake at 350 degrees Fahrenheit for an hour. Cut and serve.

Okay, that's that. I'm happy to be back home (except to hear the news that a bike rider got killed in my neighboring suburb-city yesterday. Guess the City of Sandy Springs, Georgia, USA has its first ghost bike coming soon.)
Be sure to follow along here and we'll keep our little chat going:
Trust the journey,
Pattie